TRAILERS
There are many different trailers in the 1-26 world. I've seen quite a few styles, but I'm sure I haven't seen them all. If you've seen a strange or great trailer, send me a photo and I'll post it here showing the good or bad attributes you'd like to point out.
Above and below - Dave Piotrowski's trailer for 525.
Below - Lee Jarrard built this trailer for his1-34, but it will carry a 1-26, 2-22, 2-33. It cost him $1800.00, 200 man-hours over 3 months. Empty weight about 600#. He bought plans from Les Schweizer, schweizer.les@klsoaring.com , they cost $75.00. Very nice job Lee!
Below - Lee's 1-34 on his homebuilt trailer. Looks exactly like a standard Schweizer trailer.
Below - an enclosed 1-26 trailer, location unknown??
Below - James Cogburn's trailer with a very nice expanded metal deck and numerous other mods to the standard Schweizer combo trailer.
Here are some nice details.
Below - Jeff Daye sent these photos and description of his trailer - another different and efficient design. I see the black-painted trailer next to it is also a 1-26 trailer, but again of a different construction than I've seen before.
The trailer is a modified Gehrlein, ser. #114. Holds 1-26A, #039, N771SY (surprise, right?). #039 was previously owned by the late Symon Gilad (SY) from NY. It was built by Nate Frank, from MD. Both have been officers in the 1-26 ASSN.
That's Patrick Daye, now age 9, holding up the wooden "Z" braces at the front of the trailer, and (photo below) Jacob Daye, now 5, holding up the fuselage mounting stubs. Wife Robin is not pictured, but is an integral part of the crew.
I like the sturdy tail mount - 686's trailer had a hardware store hinge that failed at the hinge point on the trip to Hobbs - if you're using a hardware store hinge - check it closely for cracks.
Photo showing the ramp in place.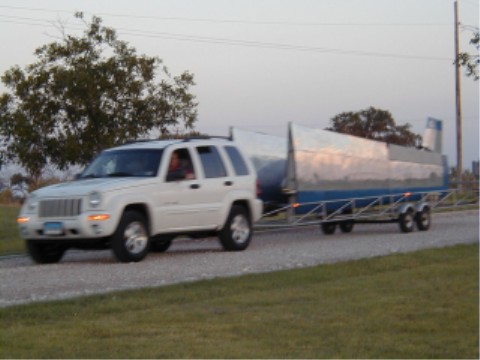 686 arriving in Hobbs behind the Liberty. Jo Shaw photo.
These photos show the trailer for 196 modified by Charles Shaw to make it easy and convenient to transport their 1-26. Spare tire tucked under the horizontal, big pipes to protect the glider. Charles told me they were broad-sided by a car that ran into the trailer with 196 on it and no damage to the glider or trailer, but plenty of damage to the offending car.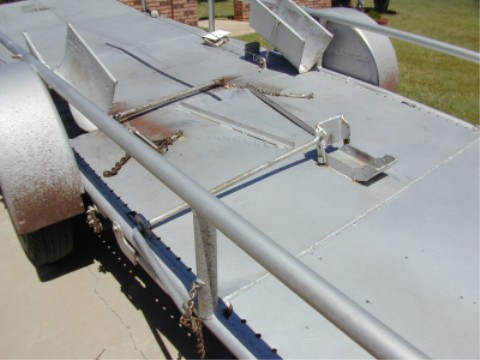 You can see the fuselage hold-down, main wheel chocking arrangement, main wheel guide rails, wing saddles and aileron locks.
The front end with the bulldog hitch, tilting bed mechanism and wing front and aft spar attachments.
525's trailer. This is what I call the "Standard 1-26 trailer". I've seen lots of these around and they're great. I don't know who made them, but they've lasted a long time. The fenders on this trailer are not too high, but still require a heave up to get the leading edge of the wing clear before dropping it into the saddle
This photo shows 686 on 525's trailer. The glider is a couple of feet shorter than the trailer indicating you should be able to put a 2-33 on this style trailer. It sits level behind the 3/4 ton Dodge 4WD because I used a drop-hitch. No trailering problems with a truck like this, except at the gas pump!
Here's 686 on her new Gehrlein "Club" trailer, as Larry Gehrlein calls it. A Dave Piotrowski photo.
I added the tilt-up pole to hold the trailer up at the front for loading. With the tail on the ground and the wheels chocked, it is very stable.
Fuselage on and the tilt-pole is set to the normal trailer-on-ground position.
The tail is held in place using two hinges that fold flat while loading the fuselage and fold up to accommodate a bolts through the tail tie-down hole.